Amanda and I took Wini out to play with the Chicago Mini Motoring Club during the annual Spring Drive. We met at a local MINI dealership and lined it up. Some Krispy Kreme doughnuts later (okay, so I have rat out A2B and her three) and we talked about the club elections. After the driver's meeting and synchronizing the FRS radios, we headed up to Wisconsin.
Happily revving my supercharged go-cart we hauled ass through the wisconsin back roads. There were 30+ MINIs in the group and I was 5th from the front, they asked the spirited drivers to head out first so there wouldn't be a whole lot of passing. We then then drove past a parking lot with 25 MINIs from the Milwaukee MINIs and they merged into our line when they could find space. We headed through some curvy two lanes and some fast sections of road. My favorite part of the whole trip didn't happen on the road but rather something my wife said. "Wouldn't it be cool if we were a husband and wife rally car driving team, I could navigate while you drive." Yeah, I love this chick!!! We stopped to in a parking lot to have a 2nd driver's meeting and take a little break. Below is a picture of Wini hanging out with all her new friends. (click on the pics to see them full frame... blogger wouldn't upload so I had to use photobucket)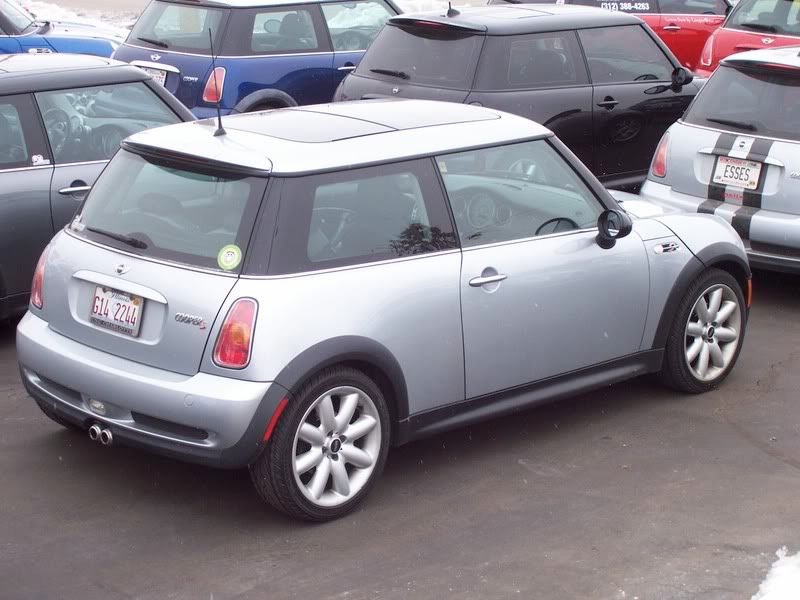 Heading on in the drive, those who planned the route found some very fun back country roads for us to carve up. The best part was that we were on rolling hills, I haven't been able to drive those since living in Charlotte. Chicago is very flat. I crested a hill at triple digit speeds and my co-pilot was just full of giggles. These roads were very much like NC mountain roads, endless curves and elevation changes. The coolest thing we saw was a 93-97 Pontiac Grand Am sitting on a frozen lake and the competition was to guess what block of time the car would fall into the lake. This last segment of the drive is the very reason I bought a MINI. We made our way to Lake Geneva where we lined up the cars at a hotel parking lot, it looked like a car show.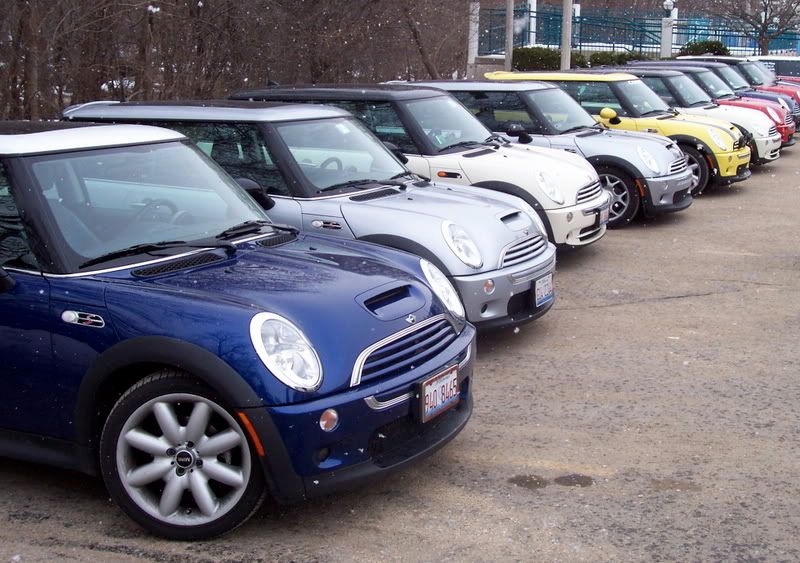 We ended up counting 54 MINIs, including two Clubmans, one is the Champagne colored car horizontal in the picture. Wini is in the back row, second from left.
Proud papa of Wini Cooper!!! Look at all that hair.